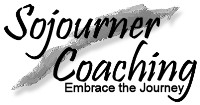 Sojourner Coaching is committed to empowering you to identify and utilize the tools you need to achieve extraordinary results in the most important areas of your life. We will support you in reaching the results you desire in order to live the life of your dreams.
We will work collaboratively with you to:


Define the results you are committed to achieving

Assess your "current state," and gain awareness and congruence. Where are you now and where do you want to be?

Identify obstacles that keep you stuck: internal and external barriers

Design the plan that enables you to move forward authentically, walking in wholeness and integrity.

Take action to achieve your goals with power, passion and purpose.
Whether you are an emerging or established professional, artist, student, homemaker, someone looking to enrich your life, through personal coaching or professional coaching, Sojourner Coaching is here to move you forward on your path to success and prosperity. Areas of expertise include:


Executive Coaching
Career Coaching
Individual Coaching
Management Coaching
Group Coaching
Organizational Development and Effectiveness
Leadership Development
We will hold you accountable, encourage, challenge and support you on your journey as you gain awareness, balance and tap into the source of your personal power. The coaching experience will stretch, empower, and excite.
Supporting highly motivated men and women to navigate the waters
of their lives with purpose.
"What does it take to live the life of your dreams? Perfect timing? Fortune opportunities? A million dollars in the bank? Not even close. It takes a decision. A simple decision that will ultimately test the strength of your commitment and the depth of your faith."
- from "The Sequoia Seed" by Karen Wright


Contact Cherie:
Cherie Buckner-Webb
Sojourner Coaching
(208) 861-5482 (C)